Converting Site Blog Readers into Paying Customers
September 9, 2021
A blog is a vital content section of many websites, helping the target audience find your business online through both social media sources and organic search. When your blog begins generating quality traffic, however, how do you go about capturing this traffic and converting it into leads and eventual sales?
At SEO Werkz, we're here to help with this and numerous other SEO services for your business. We assist with several important areas of content creation and optimization, including different methods to convert your blog readers into paying customers as efficiently as possible. What are some of the top concepts and themes we'll utilize within this area? Here's a basic layout.
Call-to-Action
One of the simplest -- but most important -- ways of converting blog readers into paying customers is to place specific calls-to-action on blog pages. This is a specific directive you give to readers that will lead them through the next step of the sales cycle, whether it's clicking your email subscription, submitting their name and phone number, or buying an item right then and there on your online store.
Ideally, CTAs will be present across all of your blog pages, though make sure only appropriate ones are available on certain posts. Common locations within a post include at the top, in the sidebar, or beneath the final paragraph. The important thing is you don't want to overwhelm readers with too many options, but provide enough incentive that they'll actually be interested and take another step forward.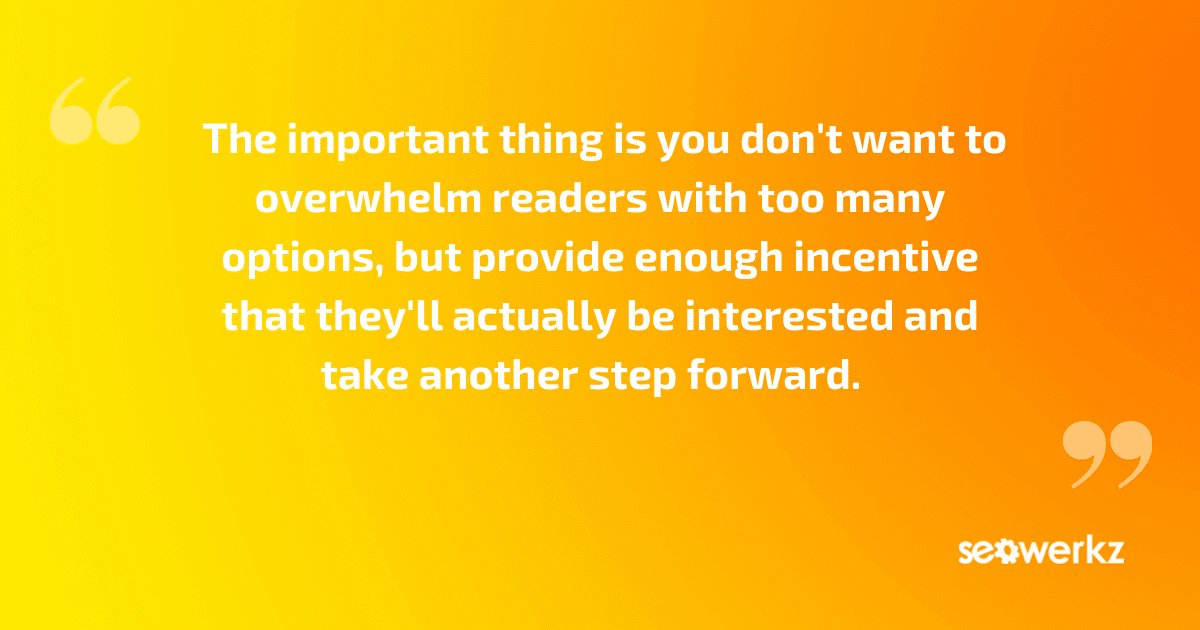 Unique Headlines
The vast majority of blog posts use headlines that are simply descriptive of the article's content -- "Who We Are," "Our Services," etc. These are valuable and important to creating a cohesive blog, but the better approach is to use headlines that will generate curiosity and eventually lead to click-throughs from readers.
You can also do this by using numbers in your headline, as they have a well established psychological impact on readers (ex: "5 Things You Need to Know About Our Company").
Effective Content and Keyword Placement
Another important aspect of your blog's ability to convert readers into paying customers is its content. Keep a few key factors in mind with this:
Content should be easy for readers to understand, as jargon or industry-specific words will needlessly create barriers for the vast majority of your blog's audience.
Content needs to be engaging and interesting, or else you risk losing readers in a matter of seconds.
Keywords should only be included if they add value to your article -- avoid stuffing them into posts just for search engine optimization (SEO) purposes.
Content Upgrades
Content upgrades refer to specific add-ons you place within blogs or other forms of content, such as a free download or a list of resources for a common purpose. Content upgrades can even include interactive PDFs, and are a great way of not only increasing your blog's conversion rate, but also building a more personal relationship with your target audience.
Lead Magnets
In other cases, sites will use what are known as lead magnets -- downloadable items or bonuses attached to blog posts that readers can obtain if they subscribe to their email newsletter. Lead magnets are an effective way of adding incentives for readers, and can also help your business rank better in search engine results pages (SERPs).
When you use a lead magnet, you're essentially offering the visitor something of value in exchange for their contact details and subscription. The magnet needs to be worthwhile, so your blog posts need to be high quality and always contain as much information as possible.
Retargeting Tools
There are several remarketing tools on the SEO market today, allowing you to pixel your existing visitors and directly target them once they leave your site. Also called retargeting, this type of marketing allows you to show ads relevant to a user's interests, and without the risk of irritating them with irrelevant suggestions.
Retargeting can have several benefits:
Decreased bounce rates
Increased conversions
Allowed to serve personalized ads (great for increasing CTR)
These make retargeting an excellent choice for any website owner or blogger looking to improve their return visitors and overall conversion rate.
Special Promotions
Another tried-and-true method for converting blog readers into paying customers is the use of special promotions or sales. You can use special promotions to establish yourself as an expert in your industry, and also give readers a strong reason to act on their interests right now rather than later.
The key with promotions is to choose one that matches the type of content you're creating, and always make sure it's relevant to your blog's audience. These should be used sparingly, so as not to annoy readers and possibly turn them away for good.
Effective Captures
To truly maximize the power of your blog's conversion rate, you need to consider everything that can affect it. This includes social media shares on Google Plus, Facebook and Twitter, email sharing tools like MailChimp (which allow you to track your newsletters' effectiveness) and more.
Since every business is different, there's no one-size-fits-all solution for blog conversions. However, the key to attracting new leads and paying customers hinges on knowing the various options available, then choosing which ones best match your goals and audience needs.
For more on how to convert your quality blog traffic into leads and eventually into consistent paying customers, or to learn about any of our SEO services or related programs like PPC, social media marketing and more, speak to the dedicated professionals at SEO Werkz today.