Understanding SEO Search Intent Within Queries (Part 3)
November 1, 2022
In previous entries to this multi-part blog series, we've been going over everything you need to know about user search intent within the SEO realm. Vital for understanding how people search and capturing their true goals, user search intent is an area highly prioritized by Google and other search engines for web pages.
At SEO Werkz, search intent is just one of numerous SEO themes we're here to assist you with in addition to our PPC, web design, social media marketing and other related services. As we've gone over much of the information related to user search intent and SEO, many have likely been wondering how they actually grasp a given user's search intent for a query. Today's section of our series will dig into several specific themes that help you make these distinctions in practically relevant ways.
SERP Research
If your site is the sort that's often found through a few common keywords, one of the simplest ways to help determine search intent is to research your own keywords. Type them into the search bar and see what comes – the type of results you receive will give you strong indications of what Google or other search engines consider the most relevant search intent for a given term.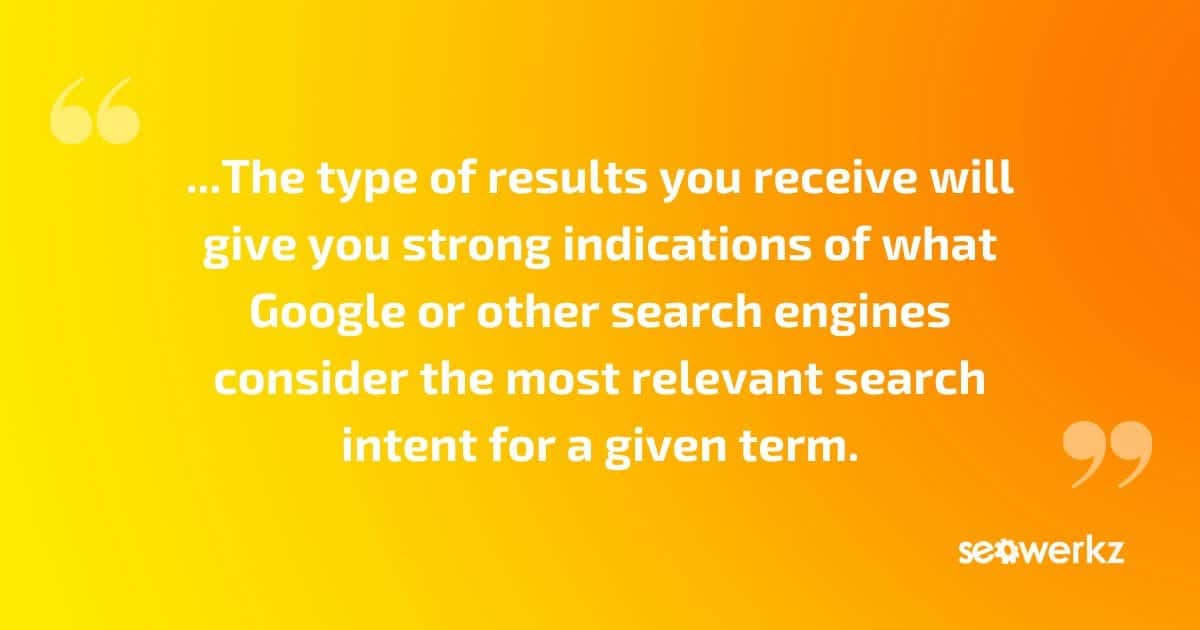 Keyword Filtration
In addition, there are several ways you can both modify and filter your keywords to help grasp search intent within them. There are several such tools available, allowing you to filter terms with various modifiers, phrases or other variables.
One of the most common uses here is filtration by SERP feature. You can isolate keywords that rank in areas like featured snippets, for instance, if you're focused on informational intent.
By Intent Type
But in the end, much of identifying user search intent comes down to each of the specific intent types we went over in part two of our series. Here are some basics by type:
Informational: Informational keywords often produce SERP results with condensed info, from featured snippets to knowledge grabs, related questions and more. For this reason, top results tend to be organic results like dictionaries, informative blogs or resources like Wikipedia.
Transactional: Usually very simple to spot, transactional SERPs are marked by paid results, shopping results, reviews and product pages.
Preferential/commercial research: This intent is often similar to informational, but will also contain paid results at the top of SERPs.
Navigational: Most users performing searches with navigational intent are already aware of the site they want to find, so relevance is a major factor in SERPs. Others will include site links, knowledge cards and possibly top stories.
For more on how to understand search intent for a given query, or to learn about any of our SEO, PPC or other services, speak to the staff at SEO Werkz today.