The Numerous Benefits of Pay-Per-Click (PPC) Advertising, Part 2
June 17, 2021
In part one of this two-part blog series, we went over some of the primary benefits of PPC, or pay-per-click, advertising. A cousin to search engine optimization, but very different in a few important areas, PPC is enormously beneficial to many brands when combined with SEO and other marketing efforts.
At SEO Werkz, we're proud to offer a wide range of PPC services to all our clients. Apart from performance tracking areas, ease of entry and the huge amount of control PPC allows you – all areas we covered in part one – here are several other reasons why you should strongly consider investing in PPC if you haven't already.
Integration With Other Channels
As we noted above, PPC is often most beneficial when used in coordination with other marketing channels – and part of its overall benefit is how easy this kind of integration is. PPC is particularly valuable when used alongside SEO, utilizing similar audiences and traffic sources to direct people into the right areas of Google Ads and creating conversions. Organic traffic data is often used to inform PPC decisions; PPC programs can often target groups not being reached in enough volume by SEO.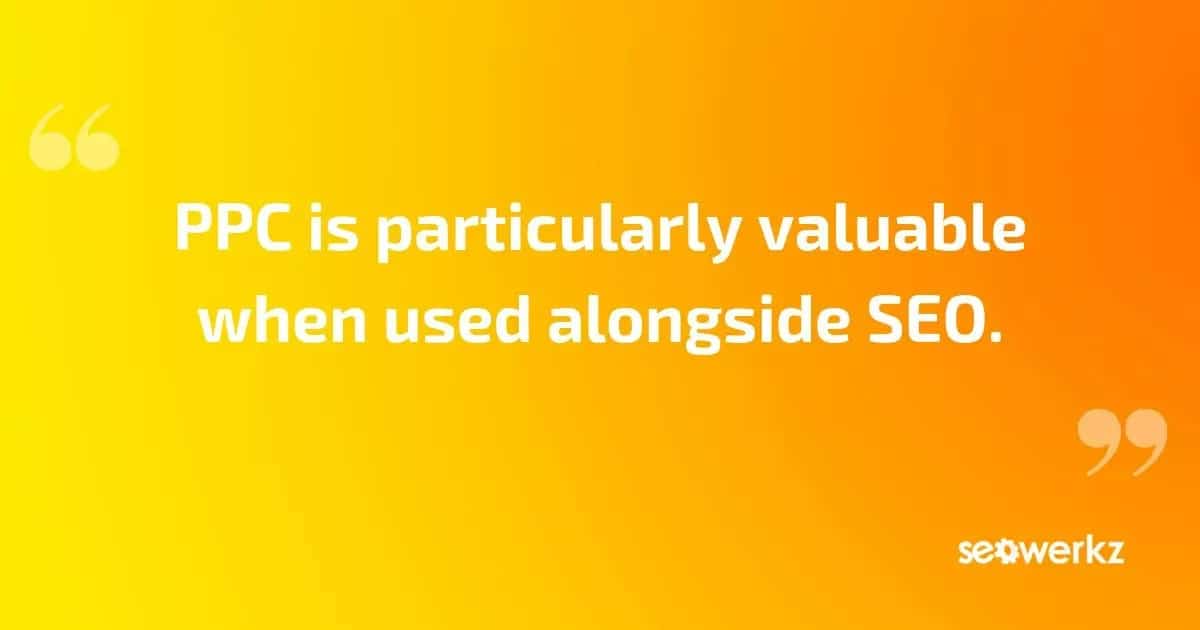 There are other situations available here as well, including some where PPC can be used as a stand-in for traditional marketing formats like direct mail. In a majority of cases in 2019, PPC will shake out as the more affordable option in terms of cost per impression and conversion rates.
Huge Amounts of Data
You can obtain huge amounts of data about your brand and marketing efforts within PPC and Google Ads areas. This starts with basic impression, click and conversion data, which is available for every single keyword you're targeting and will be used to help modify your overall strategy on a regular basis.
In addition, consider items like the built-in keyword planner, or display planner tools that let you locate the audiences you're trying to target. There are also numerous third-party data tools available, such as those like SpyFu that allow you to see what the competition is doing and how you can better compete with them.
Wide Targeting Options
Google ads and PPC options also offer numerous targeting options, whether we're talking text ad targeting, remarketing, or specific audience targeting based on their demographics. Best of all, you can do some trial and error here, testing out various combinations of targeting until you settle on the sweet spot for your business. You can reach people who may not have already been in your audience previously but would have interest, plus bolster the interest already obtained from people who have seen the brand.
For more on how PPC can benefit your internet marketing efforts, or to learn about these or any of our SEO services, speak to the staff at SEO Werkz today.