Everything Online Marketers Need For "About Us" Pages, Part 3
June 17, 2021
In parts one and two of this three-part blog series, we've been discussing the importance of About Us sections on company websites and some tactics for creating them. Far from just a throwaway section of your site that gives basic contact information and little else, About Us sections are vital for several major purposes, including integration with other areas of your site.
At SEO Werkz, we're proud to offer a full range of search engine optimization, PPC and web design services, including extensive expertise with About Us sections. In today's final installment of this series, we'll go over some of the technical aspects of About Us sections – the kinds of labels and structural elements to consider, stating your company's purpose, and the importance of integrating review content.
Structures and Labels
The way you choose to structure your About Us page will depend on a few factors, from the size of your site and business to the kinds of information and user needs you want to address. Some businesses opt for a single About Us page, while others may prefer multiple subcategory pages for detailed areas. Here are some general tiers when it comes to About Us labels, both on the primary About Us page and in other areas of the site:
Homepage tagline: It's helpful to have a few sentences on the homepage that summarizes the contents of your About Us page in a simple, easy way. Many businesses also link to the actual About Us page here as well.
Summary: On the actual About Us page at the top, you should use one or two short, easy-to-digest paragraphs on your company, goals and services.
Footer links: When a website user can't find information they're looking for, their first response is usually to scroll down the footer – so you should have a link here that directs to your About Us page.
Subcategory pages: As we mentioned above, you may choose to use subcategory pages for more detailed areas. These areas can range from mission and values to news, diversity areas, sustainability factors, or many others.
Mission Statement and Company Purpose
No matter which format you choose for your About Us page or pages, it's vital to clearly explain what your company's mission is and the products or solutions you provide to clients. Never assume that people already know this information – this is what this section is for, and it should be simple and easy to follow.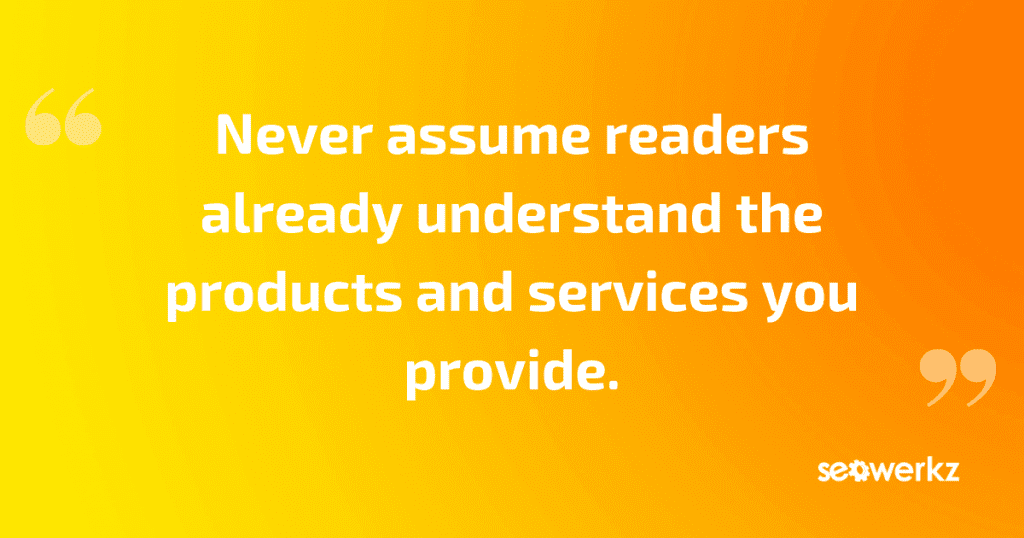 Why Review Content Matters
Finally, a vital area to consider for About Us pages is integrating review or feedback areas. If you're able to include real, authentic user review content in these sections of your site – including the possibility for negative reviews – people who view the page will be more likely to trust the information present and view you as a transparent company.
For more on About Us pages, or to learn about any of our SEO or PPC services, speak to the staff at SEO Werkz today.