Why User Search Intent Matters for SEO, Part 2
November 1, 2022
In part one of this multi-part blog series, we went over some of the basics on user search intent and why it's so important for SEO. Helping define the purpose of a given search even beyond certain common metrics or keyword data points, search intent is a major variable in Google and other search engine algorithms, and must be carefully considered by SEO experts and online marketers.
At SEO Werkz, search intent is just one of several important areas we're happy to help with when it comes to our varied SEO services, which include everything from local optimization to link-building, on- and off-site optimization, content creation and much more. In today's part two of our series on user search intent, we'll dig into the different types of intent to be aware of, plus some details on search query interpretations and how these factor into the equation.
Types of Search Intent
Throughout the wide world of search keywords and terms, there are four notable types of search intent to be aware of from an SEO perspective. One important note: Many searches will fall into more than one category simultaneously, and they are not mutually exclusive. The categories include:
Informational: One of the simplest and most common types of search intent is informational, or the search for more information about a topic. There are a huge variety of answers people might be looking for on the web to their questions, or even simple bits of information that do not contain any kind of question at all. Common forms include how-to guides, definitions of various words or subjects, directions to a given location and more.
Transactional: As the name indicates, transactional user intent signals those looking to purchase something. This doesn't always have to be an object or product – it could also be a service, subscription or something similar.
Preferential or commercial investigation: In many cases, users will do some research before the enter the transactional stage of a search. They might be looking to compare products or services, for instance, or find reviews on multiple companies with similar services.
Navigational: Finally, navigational searches refer to web navigation, not geographical navigation. Users who don't quite remember a URL might use this form of search, as might those just looking for a faster process than typing out a long URL.
Query Interpretations
It's also important to note that many search queries come with more than one meaning given the complexity of the English language. When this happens, Google will classify the specific query based on its interpretation, which plays a role in search intent. There are three interpretation categories:
Dominant interpretation: What most people mean for a given query; Google's result must be clear in these cases
Common interpretations: When multiple common interpretations are possible, Google will provide results that cover several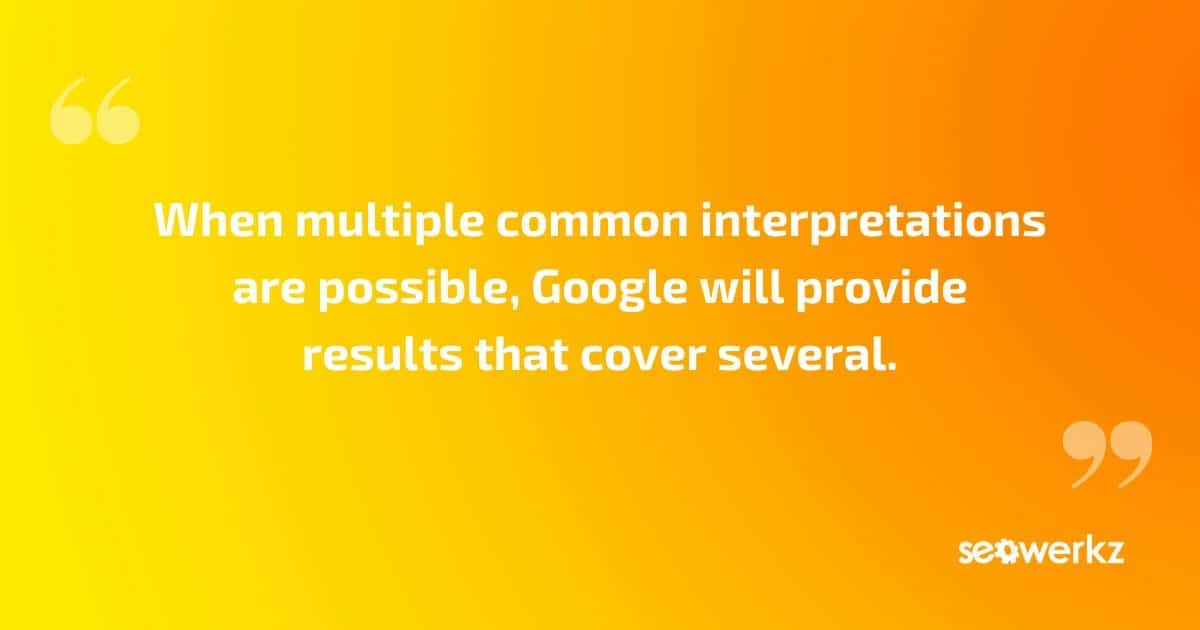 Minor interpretations: If queries have uncommon interpretations, these may show up depending on locale
For more on SEO and search intent, or to learn about any of our SEO, PPC, web design or other online marketing services, speak to the staff at SEO Werkz today.