Preparing for Google's Core Web Vitals Update, Part 2
August 28, 2020
Why User Search Intent Matters for SEO, Part 2
October 9, 2020
There are numerous factors that play a role in successful SEO efforts for a given business or website, and one area that often serves to push a business over the top in this realm is known as search intent. While there are a variety of data points and quantifiable variables that help define your SEO success, elements of this may also come down to a simple statement: Your site's keywords and the search intent of your desired demographics do not match.
At SEO Werkz, our search engine optimization (SEO) professionals are here to guide you through a variety of areas such as this, plus many others within related fields like PPC, web design, social media marketing and other online advertising areas. We've assisted numerous clients with not only understanding their vital site metrics and data, but also areas like user search intent and the role it often plays. In this multi-part blog series, we'll go over everything you need to know about search intent and SEO.
Intent and Goals
Search intent, as the title suggests, refers to the primary goal any user has when performing a search on Google or another search engine. This goal type can generally be categorized in one of two ways:
User is looking to find information related to specific keywords they've used
User is looking for general information about a given subject
A singular topic, then, can have several different search intents attached to it. This is why intent is important, as you might not always be able to capture it simply using metrics alone.
Why Intent Matters for SEO
There are several distinct reasons why capturing search intent in your SEO efforts makes a difference:
Google searches: Google places a major priority on satisfying user search intent, and this makes it vital for all SEO experts as well. Google will note anytime a user performs a search and doesn't click on anything; this shows that the intent of these results does not line up with the searcher.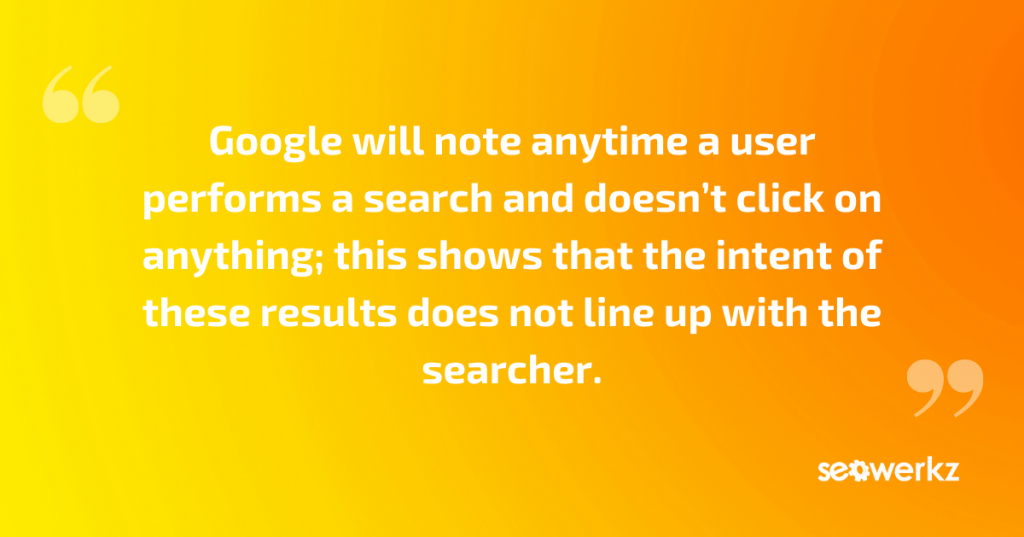 Ranking improvement: As many SEOs are aware, Google ranks based on primary factors of relevance, authority and the satisfaction of users. All three of these have direct connections to search intent.
Funnel stages: If you understand search intent, you can create content that matches the common intents of your searchers. This allows you to reach users at various stages of the SEO funnel, starting with those who are just learning about your brand but running the entire spectrum up to those who are already familiar and just looking for that final push into conversion.
For more on search intent and why it's so important for SEO efforts, or to learn about any of our online marketing services, speak to the staff at SEO Werkz today.
At SEO Werkz, we offer a wide array of services to our clients. We are a 'one-stop-shop' place for businesses wanting to market their company online. If you are marketing online, or need to be, we can help you. Whether it is custom website design, or wanting to develop an online marketing strategy, we will show you exactly the right path to take, utilizing the newest strategies, and always making cost conscious decisions. Tired of that old rusty website of yours, as it snails along the internet freeway? You never want to send anyone to it because it's simply embarrassing? Or has your business just evolved and you need something Incredible!? Start with a blank canvas, and let's get it done…I will work with you to lay out your thoughts and goals, and I'll bring it to life in an interactive design!