How Meta Data Impacts Your SEO Efforts
September 9, 2021
There are a few important back-end themes that play a major role in the success of a website within the SEO world, and one of the most well-known types here is known as meta data, or meta tags. Referring to small snippets of code that tell search engines vital information about your page, including how to display it in search results, meta is present on every single web page, visible in HTML code for search engine crawlers.
At SEO Werkz, our on-site SEO optimization services include a variety of meta data areas, from page titles and descriptions to headers and many others. What is meta data, how does it impact SEO, and what are the different types of meta tags to be aware of? Here's a primer.
Basics on Meta Tags
As we mentioned above, meta tags are snippets of code on web pages that impact how those pages appear in search engine results. There are several different types of meta tags - page titles, descriptions, keywords (which Google introduced several years ago to discourage SEO professionals from stuffing their clients' pages with keywords), and various other snippets of code for particular plugins or widgets.
Google's use of meta data has changed over the years, and their algorithms for search engine rankings are constantly evolving. However, meta data is a key factor in SEO optimization and remains an important aspect of any website's overall success.
Meta tags only exist in HTML, meaning that they can't be seen by the average user. Instead, meta tags are visible only to search engine crawlers that pull data from your site and use it to help determine how your page should appear in search results.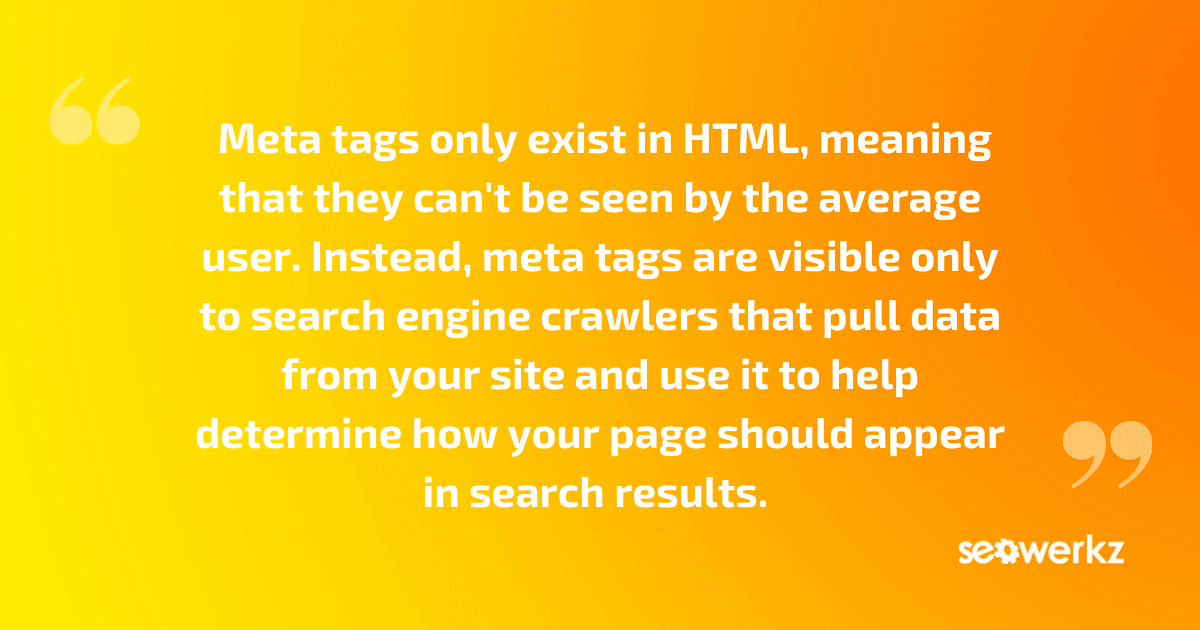 How Meta Tags Can be Found
Are you interested in seeing how your site's meta tags look in code form? You can find them by looking at the source code on your site. This is easily done by right-clicking anywhere on a given web page, then selecting "View Page Source."
Alternatively, some prefer using a plugin like Firebug for Firefox, which will pull up the HTML for any page you are on. You also can use  and add your URL there to see its meta tag data in one place.
Our next several sections will go over some of the more important meta tag types to be aware of.
Title Tag
Likely the single most important piece of meta data on most sites is the title tag, which appears at the top of web browsers, or sometimes just as a "tab" if you use another browser like Opera. When someone searches for specific information on Google's search engine, or uses their mobile phone to do a voice-based search (like Siri), then that is what your page title appears as in results.
Page titles are typically set up by webmasters, but can also be set up at the WordPress dashboard level. Check your site's settings if you've recently changed your title tag and aren't seeing it reflected in search results (you'd change this in "General Settings").
For most sites, we use a formula of descriptive keywords for SEO purposes plus your business or brand name in order to create a search engine-friendly title tag for your web page.
Description Tag
Also known as meta descriptions, this is an area of code that appears underneath your site's URL in the first section of results on Google and other search engines. Descriptions are much like titles, except they can be longer (the limit for Google's search engine is 200 characters).
Meta descriptions are also an area where you can entice people to click through to your page. While there's no exact science for meta descriptions, we generally recommend using a formula similar to the one used for titles in order to get the most out of this important piece of code.
Meta Keywords Attribute
Meta Keywords are one type of meta tag that's used much less often today than it would have been a decade or so ago. They used to be more popular for "keyword stuffing" and similar efforts, but search engines have moved away from allowing these practices.
Meta keywords are set up as a list of words within the meta description tag, typically separated by commas. Speak to our team for more on whether they might have some value for your site, but don't be surprised if they don't.
H1 Headers
Another vital piece of meta data is the H1 header, which is typically the biggest and most important on a web page. It appears as the first thing that someone might see if they look at your site without scrolling, so it's an opportunity for you to convey something of value in a single line with no internal code.
Generally speaking, the H1 header will be the title of a post, or some other emphasized text on the page. It's not the same as the title tag, which is the entire title in your page source and what people will see at the top of their browser (or just as a tab on mobile browsers).
For SEO purposes, we recommend using keywords for H1 headers whenever possible, but ensure that they are equivalent to clear value-adds. It's not recommended to write an H1 header simply with random keywords. Writing proper H1 headers for your most popular pages is one of the key factors in drawing in good organic search engine traffic, and it's something our staff will work with you on.
For more on the various meta tags present in SEO, or to learn about any of our on-site or other SEO services, speak to the staff at SEO Werkz today.