Metrics Used to Measure Success Within SEO
June 17, 2021
At SEO Werkz, your comprehensive partner for all SEO and online marketing solutions, one particular line of questioning is perhaps the single most common we get from our numerous clients: How do I track my progress and success? This is a completely viable question, as all business owners or marketing pros want to know what their money is going toward and how efforts are impacting their site – and there are several answers to be aware of as well.
When you work with us for SEO services, whether for local optimization, CRO services, retargeting or numerous others, we're here to answer these queries and more. One of our key services involves helping our clients measure and track the progress of any of their SEO campaigns or related services, and we'll happily show you the multiple ways we accomplish this. Here's a primer to get you started, with our team happy to answer any specific questions you have within any of these areas.
Organic Traffic
When anyone using Google or another search engine types in any kind of query, whether it's a single word or an entire phrase, they'll get a set of results featuring both ads and other pages. These non-ad pages refer to organic traffic – the number of visitors your site generates from people clicking on your pages when they show up in these results.
This type of traffic is what's known as targeted, meaning you know the person doing the search is looking for something related to what your site does. That makes it highly desirable traffic, and many SEO efforts will go toward promoting organic traffic. If you're seeing increases in organic search results, it means your keyword visibility has gone up and you're doing a good job targeting keywords.
There are several tools to use to compare organic traffic, including Domain Overview and Traffic Analytics.
SERPs and Rankings
That page we referred to above, where organic search results land? Those are called search engine results pages, or SERPs. There are several kinds of SERPs, including featured snippets, knowledge panels, image packs and more. This area refers to how many people see your site in search results, and is a great indicator of overall SEO progress.
In addition, you can easily track your keywords and their rankings. A keyword, for those unaware, is a word or term that covers common subjects searched on a search engine – but getting to a point where your site is the one that comes up when people are searching that keyword in your area is a big part of the goal of SEO and online marketing.
There are multiple ways to track rankings for keywords, including simply doing a Google search for your own keywords and seeing where you show up. For better analysis, our team will assist you with a keyword gap analysis.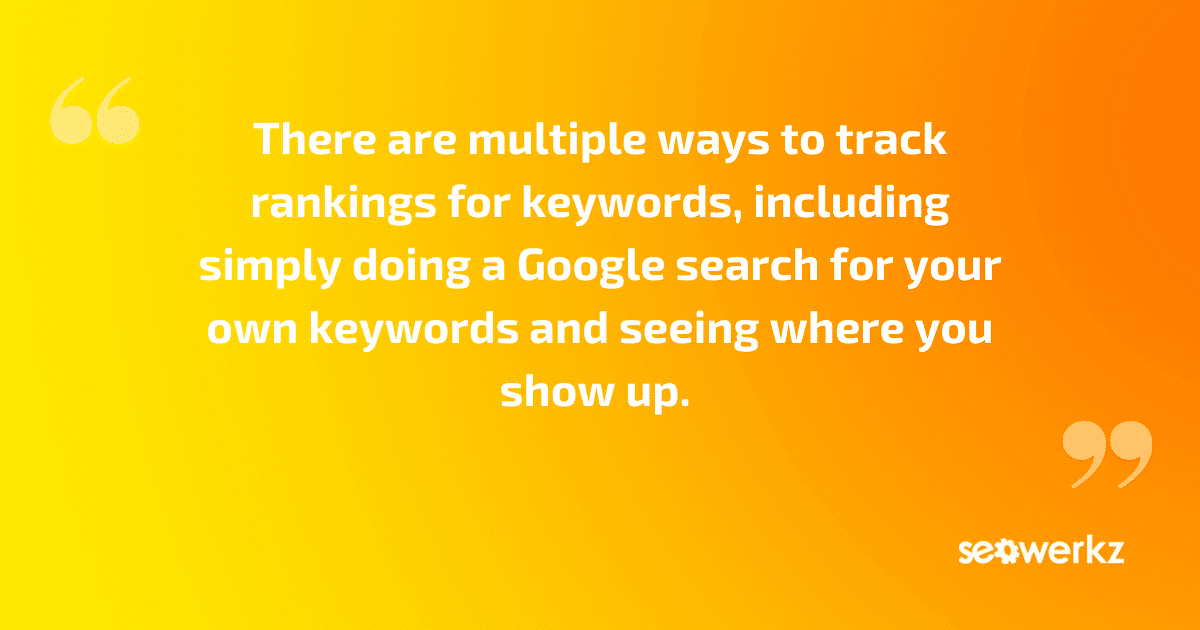 Click-Through and Bounce Rate
There are also a couple important rate metrics to be aware of for SEO:
Click-through rate: Abbreviated CTR, this rate refers to the percentage of users to clicked onto your site directly from the SERP we went over above. So for instance, if your site appeared on a SERP 200 times in a given week, and 20 of those searchers clicked your link and visited your site, your CTR will be 10%. Be aware that low CTR numbers are completely normal – the average click rate for even the highest position on a Google search is still under 30%. However, there are several ways you can improve CTR, including optimizing meta data and URLs.
Bounce rate: Bounce rate, on the other hand, refers to the percentage of users who do visit the site to begin with, but then leave without clicking on more than one page within it. There are also varying levels of bounce rates you can track depending on site needs – you can get great detail on how engaged visitors tend to be once they reach your site, allowing you to optimize in several areas.
Domain Authority
Also simply called website authority, this is a metric that helps predict how well your domain will rank. There are a few different online resources for authority rankings, with higher numbers generally meaning more traffic and a better ranking. New sites always start with a low authority score and have to build this area up, a process done using backlinks and other tools.
Backlinks
We mentioned backlinks just now, and they're important for several areas of SEO. Backlinks, or links that come from another site and link back to yours, are a top factor for Google when ranking websites, and should be one of the top areas you attend to.
Backlinks should be strong and come from authoritative sources wherever possible. You can also track backlink numbers using Backlink Analytics, which our team will be happy to detail for you if needed.
Page Speed
One factor that's important on its own, but also has a big potential impact on other metrics: Page speed. Think about it – a visitor who comes to your site and has to sit around and wait for pages to load will not be impressed, and your bounce rate is likely to increase based on this. You can use Google's PageSpeed Insights tool to find out if your site is fast enough, then speak to our team about solutions if you want to improve it.
Time Spent and Conversion Rates
Finally, some of your big final metrics to track will involve how well your content matches up with user intent. Are users spending lots of time on your site? You can track this in several ways. You can also track conversion rate, which is often considered the most important single metric in all of SEO – it is defined by the ratio of defined actions to actual visitors of a site, then multiplied by 100 to get a percentage.
For more on the different metrics used to evaluate SEO performance and success, or to learn about any of our SEO or internet marketing services, speak to the staff at SEO Werkz today.