Importance of Maintaining SEO Through COVID-19 Outbreak, Part 1
November 1, 2022
As understandable fears swirl around the globe regarding the coronavirus outbreak and resulting cases of COVID-19, it's important for all to be aware of the latest information from reputable resources like the CDC. It's also vital for citizens to follow the regulations and recommendations of local, state and federal governments regarding social distancing and other changes to daily life as we collectively look to get past this outbreak.
One area that should not be paused during this time, and in fact is hugely important for businesses looking to maintain vital financial areas: Search engine optimization, or SEO. As SEO Werkz, we've taken all appropriate virus spread precautions with our team of SEO experts, allowing us to continue serving all our clients with the quality solutions you've come to expect from us. This two-part blog series will dig into the numerous reasons why it's vital to continue your SEO efforts even during COVID-19 outbreak concerns, plus some basic tips on areas to consider as you move forward.
Estimating Changing Demand
For starters, SEO will be one of the best tools available to businesses and marketers for determining how demand and other areas will change based on the outbreak. Resources like Google Search Console are enormously helpful for checking your impressions and basic demand metrics, often showing you simple indicators well before others would be available.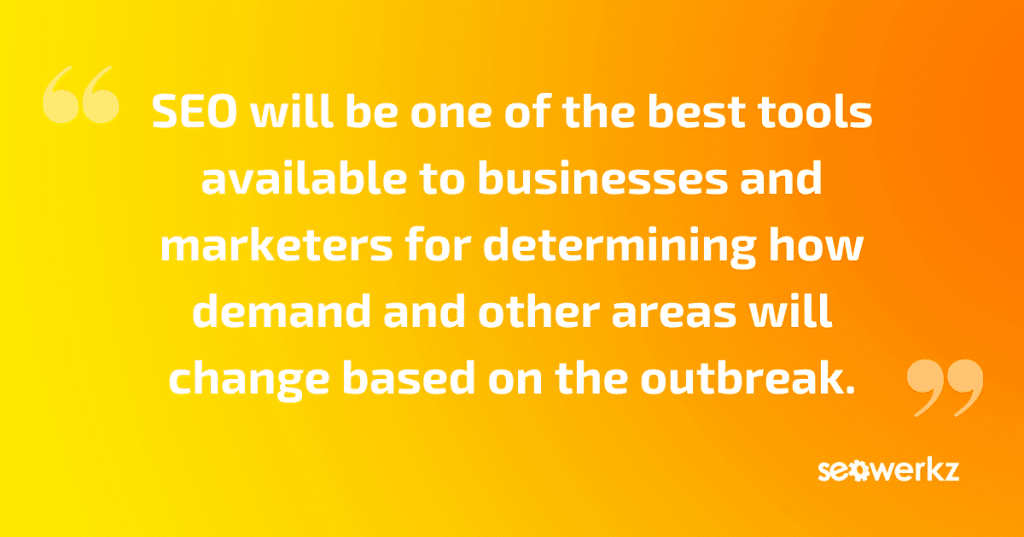 Running simple checks here allows you to be prepared for what's coming, whether your business may experience a small decline or could actually see an increase in demand based on recent societal changes.
Evergreen and Simple to Maintain
One vital element to know about SEO in general: It's evergreen, not temporary. You have numerous opportunities to continue creating content and taking advantage of other SEO themes, even during a strange period like this – including in areas people will see when things return a bit more to normal.
And perhaps the simplest theme we'll discuss within this realm: SEO is easy to maintain despite the current outbreak. It can be done 100% digitally, meaning there is no need to put anyone at risk through in-person meetings or gatherings.
Strong ROI
SEO marketing is also known to bring a strong ROI, and this is vital for businesses looking to make it through this tough period. Even those who are quarantined or self-isolating will need products and various services, and there are many areas where search demands are actually rising significantly during this period. Businesses must maintain strong SEO efforts here to allow for visibility and conversions for these individuals.
Tracking and Pivoting
Another important piece of SEO is the ability to track and adjust your efforts based on response. There are numerous SEO-related analytics that help you track your marketing, and you can use the data you find in these analytics to alter your approach in areas that dictate it. You can find stronger keywords and better ways to promote content and turn leads into conversions.
For more on why it's vital for businesses to maintain SEO and other online marketing efforts despite the recent disease outbreak, or to learn more about any of our SEO, PPC, web design or other services, speak to the staff at SEO Werkz today.