Why Landing Pages Matter for Internet Marketing, Part 2
April 17, 2020
Importance of Fresh and Updated Website Content, Part 1
May 1, 2020
In previous entries to this multi-part blog series, we've gone over numerous important areas for business owners and online marketers to understand with regard to landing pages. These pages, which generally accompany offers or promotions from your business, serve not only as potential conversion locations to turn leads into customers, but also into valuable sources of information that inform your future marketing efforts.
At SEO Werkz, our web design and search engine optimization pros are here to help with all landing page needs you may have, in addition to our wide range of other online marketing services. In today's final entry to our series, we'll go over some of the most common uses of landing pages by marketers today, plus the important elements you need to consider in any landing page, including the all-important follow-up page.
Common Landing Page Uses
There are numerous potential uses for landing pages, including in unique areas specific to your business. Some of the common formats you'll see them utilized in include: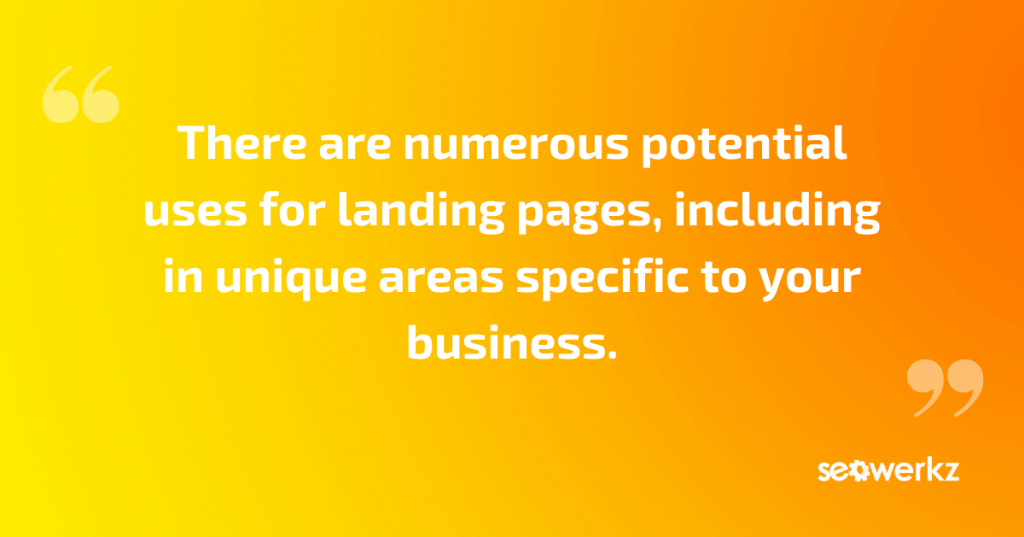 To showcase a product or service from your business
To incentivize sign-ups for a newsletter or similar item
To advertise or otherwise promote a special business-related event
To send one-time offers out to various channels
To promote a special clearance or holiday sale
To promote a survey you want prospective leads to fill out
To push downloadable materials to leads
To share videos or infographics regarding your business
To supply coupons or coupon codes
To say thank-you to a segment of clients
Elements of a Landing Page
So what should be included in a landing page? This will vary depending on your business and other factors, but here are some of the primary elements you'll generally find on a given landing page:
Headline: The first words someone sees when they land on the page, their first impression.
Copy: The remaining content – short, simple explainers of value and any offer you're giving.
Keywords: Just as with other forms of online content, keywords should be included in several places.
Social links: Allowing visitors to share the page on their social networks and expand its impact.
Hidden navigation: Many web design experts will create landing pages where all top or side navigation bars are hidden, which keeps the page clean and decreases bounce rate.
Lead form: All landing pages will have this vital element, a lead-capture or conversion form where page visitors submit information you can use to convert them.
Image: To help drive home the visual appeal and basic purpose of the page.
Follow-Up Page
One important landing page element that deserves its own section is the follow-up page, or thank-you page. This page confirms the lead's information and then gives them the offer in return, or at least gives them the next steps they need to take. In many cases, you can attach an email response to this thank-you page that's automatically sent when they complete the form.
For more on landing pages and their importance to online marketing, or to learn about any of our SEO, PPC or other services, speak to the staff at SEO Werkz today.
At SEO Werkz, we offer a wide array of services to our clients. We are a 'one-stop-shop' place for businesses wanting to market their company online. If you are marketing online, or need to be, we can help you. Whether it is custom website design, or wanting to develop an online marketing strategy, we will show you exactly the right path to take, utilizing the newest strategies, and always making cost conscious decisions. Tired of that old rusty website of yours, as it snails along the internet freeway? You never want to send anyone to it because it's simply embarrassing? Or has your business just evolved and you need something Incredible!? Start with a blank canvas, and let's get it done…I will work with you to lay out your thoughts and goals, and I'll bring it to life in an interactive design!