How SEO Werkz Can Help Your Local Business Thrive
November 1, 2022
There are approximately 115 million small businesses operating in different parts of the globe. A large percentage of these businesses know about digital marketing, but aren't fully capable of using it properly. Search engine optimization or SEO, for example, is an effective tool that will help companies increase their web presence and reach more customers.
In a survey conducted in 2015, researchers found that 76% of SMBs (Small and Medium Businesses) in the United Kingdom knew of SEO.
Source: http://www.statista.com/statistics/489026/awareness-of-marketing-channels-amongst-smes-uk/
How Important SEO Is to Your Business
SEO is one of the best marketing tools that a small business can use. It is so powerful it can take your website rankings from the bottom to the first page of Google search results within a few weeks or months.
But this is certainly no easy task. To reach the top spot and stay there for the longest possible time, you must use ethical SEO strategies and stay updated with the latest industry best practices. Complying with Google Webmaster Guidelines and finding effective ways to cope with algorithm updates are just a few good examples.
More businesses are realizing the benefits of SEO. In fact, a survey conducted by BrightLocal in 2014 revealed that 42% of SMBs believe SEO is the most effective online marketing channel there is. Another survey showed that 41% of marketing, business, and sales professionals rated SEO as the best lead generation tactic.
Source: http://www.statista.com/statistics/368755/lead-gen-online-tactics-effectiveness/
The data simply shows how important SEO is to small and medium-sized businesses across the globe. If used properly, this marketing tool can take your company to greater heights.
Some of the most important benefits of SEO include:
Higher Rankings – SEO makes your website more appealing to search engines. Google, for instance, ranks sites based on relevance, quality of content, and the value they add to users. Keyword research and content marketing play a big role in making websites rank high on the search results.
Improved Online Presence – When your website appears on top of the SERPs (Search Engine Results Pages), it will be more visible to existing and potential customers who are looking for something relevant to your business.
Increased Traffic and Conversion – Improved web presence allows you to obtain more targeted traffic and leads. Customers are more likely to click on the first few websites they see after making a query. SEO puts your site in front of your target market.
Increased ROI – Increased traffic means more chances of converting visits into actual sales. Higher conversion rate means increased return on investment (ROI).
While SEO is a proven and tested methodology for success, business owners and marketers should understand that having a strong presence on local searches and targeting the global market are two different things. If you're one of those with a physical store or office in a specific location, you must learn about Local SEO and the benefits it can give your business.
What Is Local SEO and Why Do Small Businesses Need It?
The world of online marketing is changing rapidly, and so is SEO. Now that Google is constantly updating its algorithms, having a strong web presence is more than important than ever. If you have a local business that you want to promote in your service area, then you must start integrating Local SEO into your content and marketing strategy.
Local SEO is a strategy that focuses on putting your website and brand on top of the local search results pages. This is possible through the optimization of every web page, link building, and claiming business profiles across multiple online platforms. With mobile internet use increasing rapidly, Google strives to provide better user experience by targeting results based on geographical locations.
Customers, particularly mobile users, usually include the name of the city or county in their online query. Google displays businesses that are operating in that particular location and offering the products or services users are looking for. If your website is optimized for local search, then it has a better chance of showing up on the first page.
What Local SEO Can Do For Your Business
Local SEO helps improve visibility by giving you a better spot on the SERPs. Google prioritizes local results and put these on top of the results page (see the local 'box' with map below).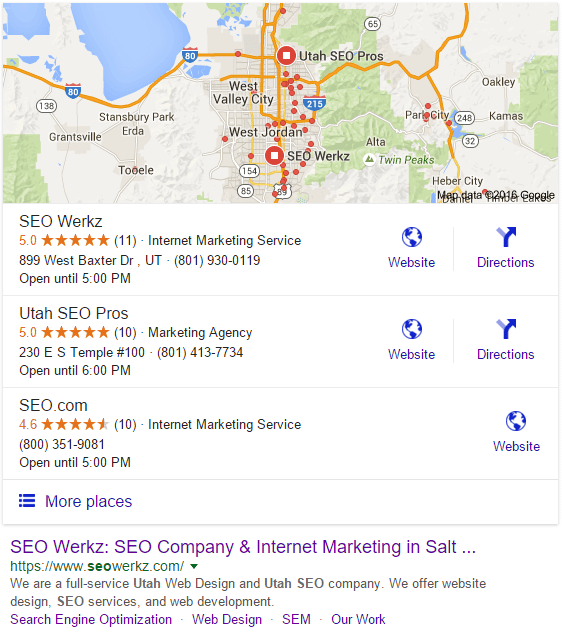 As you can see, Google showed the top three companies that ranked on local search for the keyword "seo utah". If your website is also optimized for organic search, just like SEO Werkz, it will rank high on organic results as well.
Local SEO increases conversion rate by bringing targeted traffic to your site. Let's take SEO Werkz as an example. As the company invested in a good Local SEO campaign, it ranked high on the local search result.
The Power of NAP
Your business Name, Address, and Phone numbers (NAP) are important to your Local SEO campaign. You must claim all your business profiles across the Web and ensure that all information is correct and consistent. To achieve better results, we at SEO Werkz recommend putting your city and state in the:
Title tag
H1 heading
Content
Alt tags
URL (if applicable, particularly on inner pages)
Meta description
The reason is simple: it helps Google bots crawl and identify your business as relevant to the query made by customers. Boom! Your brand and website appear on top of local search results page.
How SEO Werkz Can Help
As a leading internet marketing and SEO company in Utah, SEO Werkz helps small businesses thrive in their respective locations by handling their Local SEO campaigns. If you're running a small business and you have a physical store, or if you're targeting online customers in a specific location, let's talk. We will show you how we can put your business to the top using SEO and internet marketing that truly work.
Call us at (801) 930-0119 for a free consultation and SEO report, or send your inquiries to info@seowerkz.com.