Local SEO and Marketing for National Franchises, Part 3
June 17, 2021
In parts one and two of this three-part blog series, we've gone over several themes and tips when it comes to maximizing local SEO and branding as a national franchise business. While you may have your national marketing efforts under control, the simple reality is that without the right attention to local programs, you could be leaving quite a bit on the table.
At SEO Werkz, our specialized local SEO service package – part of our comprehensive SEO, PPC, web design and overall internet marketing services – will ensure you're in good shape if you're such a business in this position. In today's final entry in our series, we'll dig into some branding and schema usage, plus why reviews are a vital part of this process and how you can go about encouraging them.
Importance of Reviews
Reviews are vital for virtually all businesses marketing themselves online, and particularly for franchises looking to up their efforts for specific locations. While reviews in general are extremely important for helping prospective clients get an idea of your quality level and how previous customers have felt about your services, they provide added value to franchises when it comes to simply raising awareness about your business to begin with.
In addition, strong reviews often help the business rank higher when your keywords are searched for. For all these reasons, make sure you inquire with our pros about review management when we're providing you SEO and other marketing services – we can help make your review pages more organically robust through several methods.
Branding Consistency
No matter how many franchises you're marketing for, whether it's a couple in a given city or dozens around the country, it's vital to remain consistent in your major branding efforts. This means prioritizing your logo and primary company colors, for instance, plus other areas of brand identity you know customers connect you with. All areas of the franchise should match here, from physical storefront elements to website mastheads and all sub-pages.
Structured Data Use
Finally, a detailed SEO area our team will be happy to dive into further is known as structured data use, also called schema markup. When used in a location-specific way, this process involves providing answers to common questions or queries about your products or service to Google or another search engine, helping said engine gain a better understanding of your page. If done correctly, this additional data will enhance your search results in a few potential ways that might raise your visibility or clickthrough rate. Our SEO pros will be happy to detail the technical needs behind structured data.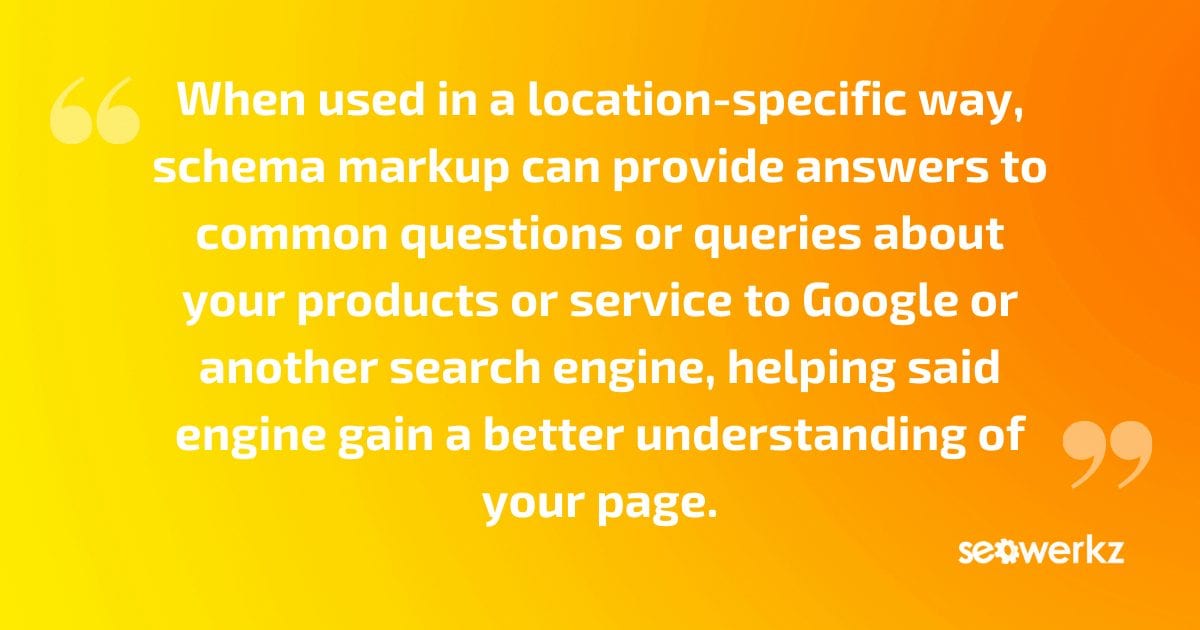 For more on local marketing efforts for national franchises, or to learn about any of our search engine optimization services, speak to the staff at SEO Werkz today.