Basics and Tips on People Also Ask SERP Results, Part 1
November 8, 2019
Utilizing Social Media for Increased Holiday Engagement, Part 1
November 22, 2019
In part one of this two-part blog series, we looked at some of the basic qualities of the "People Also Ask" section that's become a larger and larger part of Google SERPs over the last 12 to 18 months. This feature is making a major impact on SEO and other internet marketing efforts, and marketers everywhere are still in the process of wrapping their heads around everything connected to it.
At SEO Werkz, we offer a combination of SEO, web design, social media and PPC services to help you cultivate the best results possible for your brand. Here are some additional tips on PAA sections, including evaluating how they impact your SERPs and how you should consider altering your approaches to maximize their presence and utility.
Repetition and Connection to Featured Snippets
There are a few important crux points to understand when it comes to PAA sections relating to their repetition and their connection to featured snippets within SERPs:
PAA questions also commonly trigger featured snippets: In many cases, a specific search keyword will trigger the PAA listings, which will in turn trigger a featured snippet if they connect directly to a logical endpoint here. Many PAA questions are the exact kinds of topics that are answered perfectly as snippets.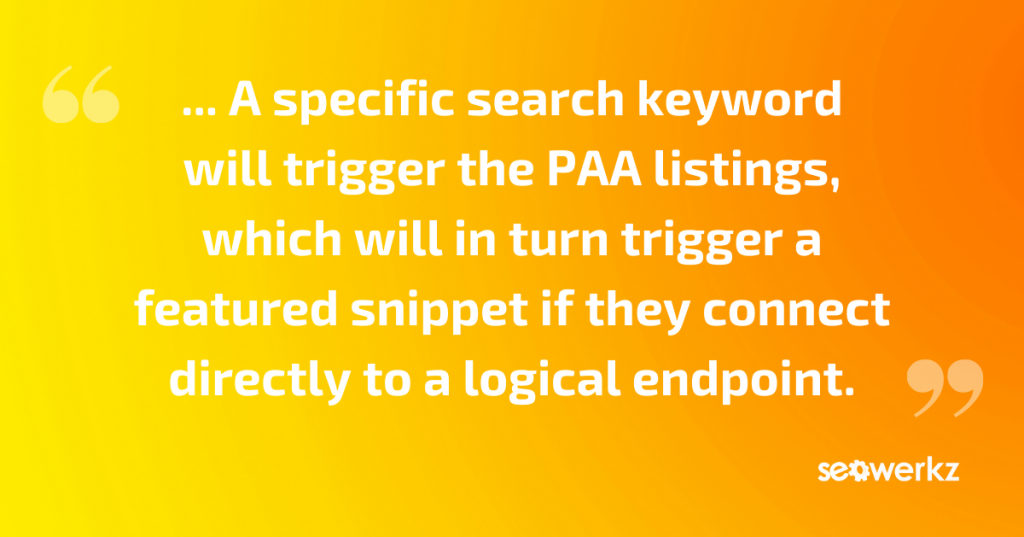 Varying keywords can trigger the same PAA question: Each individual keyword doesn't contain its own set of PAA questions triggered, and SEO pros wouldn't want this anyway – allowing different keywords to trigger the same PAA questions ensures your prospective clients have their most common and pressing questions answered despite varying search terms used.
Different questions might show the same result: Listings that appear for certain PAA question keywords can also appear for other keywords, with the exact same PAA listing. This is based on the intent of the keyword.
Feedback Feature
At the bottom of most PAA listings, there will usually be a hyperlink marked "Feedback." Clicking on this brings a pop-up that allows you to note whether the section was helpful or not, plus whether anything was wrong with it and whether you'd offer specific comments or suggestions. If you notice PAA listings for various keywords or searches within your scope are not accurate, you can flag these and hopefully Google will alter them in time.
How is PAA Impacting Your SERP?
When looking at your rankings and other indicators of SEO success, you should look at elements like PAA and others that might be impacting organic traffic. Ask yourself which elements are having the biggest impact on SERP results for your core keywords, plus how often these SERP elements appear and how they're affecting organic results. This is vital before implementing your SERP strategy, especially with how common PAA sections are today.
For more on People Also Ask or other SERP elements, or to learn about any of our SEO, PPC or web design services, speak to the staff at SEO Werkz today.
At SEO Werkz, we offer a wide array of services to our clients. We are a 'one-stop-shop' place for businesses wanting to market their company online. If you are marketing online, or need to be, we can help you. Whether it is custom website design, or wanting to develop an online marketing strategy, we will show you exactly the right path to take, utilizing the newest strategies, and always making cost conscious decisions. Tired of that old rusty website of yours, as it snails along the internet freeway? You never want to send anyone to it because it's simply embarrassing? Or has your business just evolved and you need something Incredible!? Start with a blank canvas, and let's get it done…I will work with you to lay out your thoughts and goals, and I'll bring it to life in an interactive design!